Explore Our Newest Features in version 6
General Features
New Interface Themes
Choose your preferred theme, from the newly added ones: White, Green and Purple
To change go to User Profile->Theme
Display Density
To increase readability more space was added to in the interface (e.g. in grids and sidebar)
To change go to User Profile->Density
Widgets Color Coding
To draw visual attention on what's important, you can choose the color of any dashboard widget
To change the widget color, in the dashboard press Customize->Manage Widgets->Select the Widget->Press Properties link. Next choose the preferred color
Extended Add New Button
To reduce data entry time, the main Add New button was extended to allow the adding of any record type, based on the user's permissions.
Time is not wasted this way to navigate into each module
Built-in PDF viewer and editor. Acrobat Reader no longer needed
Acrobat Reader is no longer required to work with embedded PDF files:
Report Designer
A simple drag and drop report designer was introduced, with the Xtra Report reporting engine.
Reports can be printed or exported to any standard file format (PDF, Excel, Word, etc)
By default, the Xtra Reports have a Company Header, which can be customized from Company->Company or from Administration->Report Templates
For now the following have reports with the new engine: Patient, Patient Form, Patient Consultation, Test Case. We will steadily upgrade all reports into the system to this new format
Tutorials on how to use the designer are available at www.youtube.com/playlist?list=PL8h4jt35t1wixmi-yv3Wj6FSJMEa08npR
Print\Export in all main viewers and dashboards
You can easily export your lists, e.g. patients list or contact list, to all main file formats (PDF, Excel, Word, etc)
All dashboard widgets containing tables can now be printed or exported:
Public Holidays in Calendar
To prevent scheduling of patients during public holidays, you can add the list of dates you want reserved.
To change go to Calendar->Public Holidays
Medical Records
Patient Editor re-designed
To better focus on this editor with lots of fields, we redesigned it with collapsible regions, so you can minimize the regions of less interest
The version 5 legacy editor is still available from: Patient Editor->Settings->Layout->Switch to v5 legacy
Providers other than medics are supported
Due to many requests, we introduced the concept of Provider, which can be either a Medic\Doctor, but also an assistant or other staff member who works on the patient
In this sense, in the medical records, the Medic labels were renamed to Provider
In the Administration->STAFF menu, the Medics section remains the same, and the Other Providers section was added to manage the non-medic providers.
All providers, either medics or simple providers, allow the assignment of revenue rates, under Company->Revenue Rates
Correct mistyped fields in bulk
You can correct in bulk invalid patient field values, like City, State,Zip or country from Administration->Categories->Corrections
Import Consultations
You can import Consultations with Diagnosis and description from csv files
To import go to Records->Activities->Consultations->Settings->Import
Consultation Report Extended
Consultation reports contains both consultation fields and the fields from all associated patient forms
Also their customization can be done using the Report Designer
Auto-calculated fields in Patient Forms
Field values can be auto-calculated from other field values on a Patient Form.
The Formulas can be set at the Patient Form Template level, and they will apply automatically when filling up the form.
For example, the BMI field bellow is auto calculated when the Height and Weight are entered:
In the template designer, the formula for the field can be entered in the Formula section:
The formulas can be designed with a friendly Formula Editor, which points out the supported fields and operations.
Should you need help in designing the forms with auto-calculated fields, kindly contact us
Complaint Form Fields to Appear in TimeLine
You have the option to include complaints entered in Patient forms in the Timeline:
Register Patients by scanning their ID
From Records->Patients you can add a new patient by scanning an ID, and extracting meaningful fields like name, DOB and ID using OCR techniques:
Currently IDs in MRZTD2 format are supported. To integrate formats used in your region, please contact us.
You can download and test the features with the image from sample
To adapt the scanning to IDs in your country, please contact us
Laboratory & Imaging
Major Module Redesign with new features
The redesign includes the following newly added features:
dashboard
test cases
automatic emailing of test results to the patients
specimens
laboratory\imaging material types
inventory dashboard with current and low stocks
inventory transfer requests
Dashboard
Your staff can view the recent requests and cases, on the locations the logged in user has permissions of data entry
Test Cases
Test Cases can be generated from Test Requests, detail the specimens and materials used, and further simplify the test values entry by providing the fields specific to the requests
Optionally the case can have attached the specimens:
Specimens can be simply entered, or scanned from a specimen barcode
Materials used during the tests can be entered as Bills of Materials (BOMs):
The actual test results are entered in result fields, specific for each test request. One request can have one or more results fields to be completed
Once the results are entered, the case can be either:
marked with the Verified status
Published – which will trigger the sending by email, if emailing is configured
The published or the print out of the case, has a clean results format:
Company header is automatically included
Case Details with case barcode, patient details, location, medic
Results Values are grouped by request category and request
Reference Values are displayed if the test values support reference values
Color Coding of the out of range Results Values
Customizable Report Design with the newly introduced report designer
Specimens Management
The Lab\Imaging module allows you to manage specimens\samples collected from patients, with barcoding for easy lookup
Inventory Dashboard
The Lab\Imaging staff can quickly check the inventory on hand or low stocks
Transfer Requests
The Lab\Imaging staff can now request inventory for needed items, or for low stock items:
Administration
In this section, you can setup the following:
the tests – along with their group and associated test fields
results forms templates
configure emailing of published cases to patients
numbering of requests, cases or specimens
Specific Material Item Types
Laboratory Materials and Imaging Materials were introduced to be used by the staff during test cases.
The feature is available under Company->Items
Pharmacy
Redesign with new features
The redesign includes the following newly added features:
inventory dashboard with current and low stocks
inventory transfer requests
Inventory Dashboard
The Pharmacy staff can quickly check the drugs inventory on hand or low stocks
Transfer Requests
The Pharmacy staff request inventory for needed drugs, or for low stock items:
Billing
Billable Patients Widget
Quickly view the patients with Billable Items, and jump to their dashboard:
This widget is available in Home or Billing dashboards
Patient Billing section was extended
The following were added: Billing Notes Widget, Billable Items, Prepaid Items and Estimates
Billing Estimates\Quotes were added
You can give your patients estimates for the upcoming treatments, and later build invoices\receipts from them
Purchases
Purchase Orders was added
You can generate orders for service or inventory items to your suppliers, and later convert them into Purchase Invoices
For inventory items, the orders can be generated from Low or OK Stocks
This feature is available in Purchases->Purchase Orders
Auto update supplier Buy Price from last entered invoice
Under Administration->Settings you can enable the automated process, that will run in the background every few minutes
Company
Item Editor redesigned
To better focus on this editor with lots of fields, we redesigned it with collapsible regions, so you can minimize the regions of less interest
Merge Item Categories
If you have to many item categories, you can now merge them together into a single one
The feature is available in Company->Items->Item Categories->Merge Categories
Inventory Fallback Location
When certain item in not in stock while billing on the billed location, a transfer of the required quantity is made in the background from the Fallback Location
You can set the Fallback Location in Company->Locations->Edit Location
Data Entry Permissions per Location
You now can limit per each location which are the groups permitted to do data entry
This can be set from Company->Locations->Edit Location or from Administration->Module Permissions
Inventory Module was added
Sections from Items were grouped here, along with quick dashboards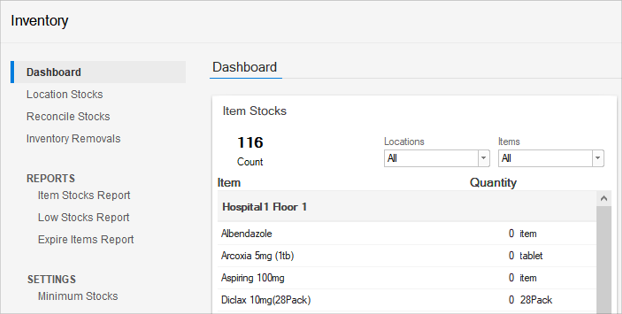 Minimum Stock Extended with OK stocks
Besides Minimum Stocks, you can define OK stocks level, and either order or request transfer on these levels. Both Minimum and OK levels can be used to build purchase orders, transfers and transfer requests
Feature available under Company->Inventory->Minimum Stocks
Transfers and Transfer Requests from Low Stocks
You can create Transfers and Transfer Requests from Low\OK stocks
You will not need to type in every quantity, the editor will autofill the quantities for the items you need
Financial
Ignore Old Financial Records
If you have years old unbalanced invoices or pending billable item, you can set up to simply do not load records before certain date
For example, having the setup as in the screenshot bellow, only the financials after Jan 1st 2019 will be displayed in the software
The feature is available in Administration->System->Records Ignore
Other Financial Features
In Module Permission, you can setup rule for Items with value 0.00, to be excluded from generated Invoice or Receipt
In Company->Prepaid Items option to confirm delivery for multiple rows delivery
In Reports->ItemStocks report, option to include Billable Items column was added
Security
Enterprise specific security features were added:
Lock out users on failed login
Lock out screen when idle
Log and alert on module permissions changes
Mandatory Strong Password option
Start your 30-Day Free Trial
Simple and quick trial setup. Have it up and running in less than 5 minutes
We're here to help you
Our team and our partners will assist you with training and support, either you're upgrading or getting started with the system.
Free Setup
We'll assist you at no extra cost in implementing the system and getting started using it.


Free Migration from older versions
You'll receive our support in upgrading from older versions and training in the new features of v6.


Support As You Prefer
You can contact us via phone, email or chat. We're here to help.


Ready to start?
Explore our Products and Pricing